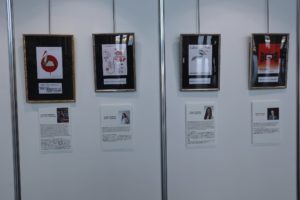 In conjunction with the reopening of Port of Humanity Tsuruga Museum,
we have held an exhibition of original Polish postage stamps at Kirameki Minato-kan in Tsuruga in November 3.
This exhibition features commemorative stamps issued in Poland last year to commemorate the centenary of the establishment of diplomatic relations between Japan and Poland, and over 50 entries submitted for the stamp contest.
The stamp contest was organized by the Academy of Fine Arts in Wrocław.
All works include the name "Fukudenkai" and the words "House of Hope (Dom nadziei)".
Issuing a postage stamp related to one institution is extremely rare in Poland.
We are very impressed by these activities in Poland and we would like many people in Japan to see these works.
We sincerely hope that this exhibition will contribute to the further development of friendly relations between our two countries.
We are planning to tour all over Japan.
Check out our tour plan here and we are looking forward to your visit!