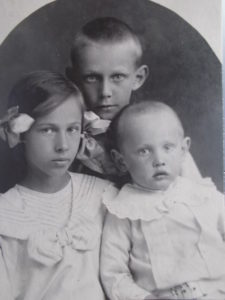 November 02, 2022,
Interview conducted by Ayaka Jimbo and Magdalena Polus with 3 descendants of Siberian Children:
Sylwia Baranowska – a stepdaughter of Bronisław Dauter
Zbigniew Dauter- the younger son of Bronisław Dauter
Andrzej Dauter – the elder son of Bronisław Dauter
Bronisław Dauter (10), Witold Dauter (3), and Eleonora (11) Dauter are on the list of children from the 1st transport from Siberia to Poland.
 Thank you very much for the opportunity to meet today. First of all, I would like to ask you to introduce yourself.
 I was born in Vilnius, then I was living in Białystok, and then I moved to Ełk, where I graduated high school. My father and I moved to Gdańsk in 1960. He is for work, and me – for University, which I graduated from in 1968 and became a mechanical engineer. I got married to my beloved wife Janina in 1964, we spent 56 years together until her death. I have one son who was born in 1966. My two grandchildren currently live in Warsaw.
My wife and I had very cheerful years, although sometimes quite challenging. We both had some contracts in Algeria and traveled around the world a bit – not too much, but we traveled here and there in France, Spain, Bavaria, and the Balkans. My wife and I were great lovers of dance, we attended courses, danced wherever we could, and for the last few years, we danced in the 50+ dance school (me until today, my wife almost until her death). It was our common passion that led to several awards at various balls (New Year's Eve or carnival etc.). We had various crowns and other trophies won at some amateur competitions. I have to say that I also have some hobbies that I can count on one hand: charade and bridge playing, dancing, cooking, and poem writing… I even can add more but I think that's enough for now.
I was born in Ełk in 1948 as a 7-month-old premature baby. I finished primary school in Ełk and then, as my brother mentioned, the family moved to Gdańsk. I finished high school in Gdańsk and studied at the Gdańsk University of Technology. I think I am the white crown in the family because my grandfather Mieczysław, father Bronisław, and my elder brother Andrzej became mechanical engineers, but I am a chemical engineer.
Andrzej: But our aunt Lena and uncle were also chemists.
Zbigniew: Ah, so more like a gray crown.
Andrzej: When my brother was a few years old, aunt Eleonora gave him quite a rich collection of tiny bottles with various chemical elements. There were at least a dozen or twenty of them. I think definitely it was an impulse that directed him on this chemistry path.
Zbigniew: I was already a little interested in chemistry as a teenage boy and this gift from my aunt Lena (Eleonora) really encouraged me. In high school I was very interested in chemistry. I even had a small laboratory at home, where I did various experiments.
Andrzej: It was also visible on the walls and ceiling.
Zbigniew: Exactly, there were effects. I am surprised that the neighbors did not complain to me and had so much patience. I finished my Ph.D. at the Gdańsk University of Technology and then worked there for a couple of years. I got married in 1975, we have two daughters. In 1981, I went to England with my family for my three-year postdoctoral fellowship. It was a beautiful city, the original old York founded by the Romans. Then I returned to Poland for a year or two and got a job offer in Hamburg at the Institute of the European Molecular Biology Laboratory with the synchrotron. We spent almost ten years there. Since it was an international Institute, everyone spoke English. There were people from all over the world, even from Japan. That is why I became friends with a Japanese guy named Isao Tanaka, who was really nice to me.
Then, there was the opportunity to take over the management of a synchrotron department in America, and I decided to go there. Although I am a chemist, I specialize in the crystallography of macromolecules, proteins, enzymes, nucleic acids, etc. Now we have been living in America for 25 years, for two years I am already retired, but I am still active in crystallography, of course, more theoretically than practically.
Andrzej: I need to add that my brother has also traveled around the world at various congresses and seminars, he published articles in scientific journals with various Nobel Prize winners.
Zbigniew: Yes, thanks to these various conferences, I have been to different places in the world. It was usually possible to spend some time with the family as a tourist, as well. I have very pleasant memories of those times.
Andrzej: I am proud of my very smart brother. I can only compete with him in crossword puzzles.
 I live in Gdańsk where I was born. I graduated from Pedagogical Studies, worked in educational institutes for 20 years in various job positions, and then I did postgraduate studies in the field of Library Science and Scientific Information. This is how I retrained after 40+ age. I worked in libraries, first at school and later in academic libraries. My last place of work was the Gdańsk University of Technology at the Faculty of Civil and Environmental Engineering.
It is so funny that I got a job in the library at the Faculty, where my father  was the head of one of the departments from the 1950s until the end of his days. So I just followed my Dad's footsteps through the University's corridors and stairs. As well as my mother's, who also worked at the University of Technology.
I appeared in the Dauter family because my Mother fell terribly in love. I was probably 10 years old when my Mother was at a party at my sister's where Andrzej's father was also present. She returned home deeply impressed by the gentleman she had met there. Then, after two years, they got married. Mom brought two daughters and Dad brought two sons as a dowry. This is how such a patchwork family was created. My Dad was a Father to me because my dad died when I was 3.5 years old. I sincerely wish everyone a Father like my stepfather was for me. He made me fall in love with hiking in the mountains. He showed me the joy of being tired after a hike; toughened me up, and taught me how to take pictures. He gave light to the complex brat like me. Thanks to Him, I am fluent in Russian, which enabled me to guide trips abroad. He gave me self-confidence, strength, and an amazing feeling that He always supports me.
On the other hand, my son Maciej after completing his doctorate in biotechnology, was also doing a postdoctoral internship with the synchrotron near Paris. So synchrotron paths somehow crossed in our family. Now he works in a completely different field because it is difficult to find his place in science. He is a programmer in a large international corporation. He lives with his girlfriend in Gdańsk, and we often visit each other and eat sushi together.
How did you find out that the family was in Siberia and came to Japan while returning to their homeland? Do you remember any stories or historical facts about the family?
A: I am very glad that Fukudenkai is searching for the descendants of the Siberian Children. Thanks to this, I was able to find out what happened 100 years ago in Japan, because the information we got from our grandparents and parents was very fragmentary – almost nothing.
I must say that I am a bit surprised that my grandparents told us nothing. Even so, they sailed by the Atsuta Maru ship together with the Siberian Children to Poland. I don't know why these stories, and especially the stay in Japan, were not talked about at all. We have completely random memories.
I learned the names of these ships, the one that took children to Japan – the Teihoku Maru, and the Atsuta Maru which was to London. So apart from that, we have almost no information. My grandfather died when I was 14. He could explain rather more to us, at least to me. My brother was young, but grandma was still alive too, so she could tell us. The father with his older sister Eleonora and younger brother were listed in a document I found. Actually, this list made me contact Fukudenkai. But our Father hardly mentioned it either.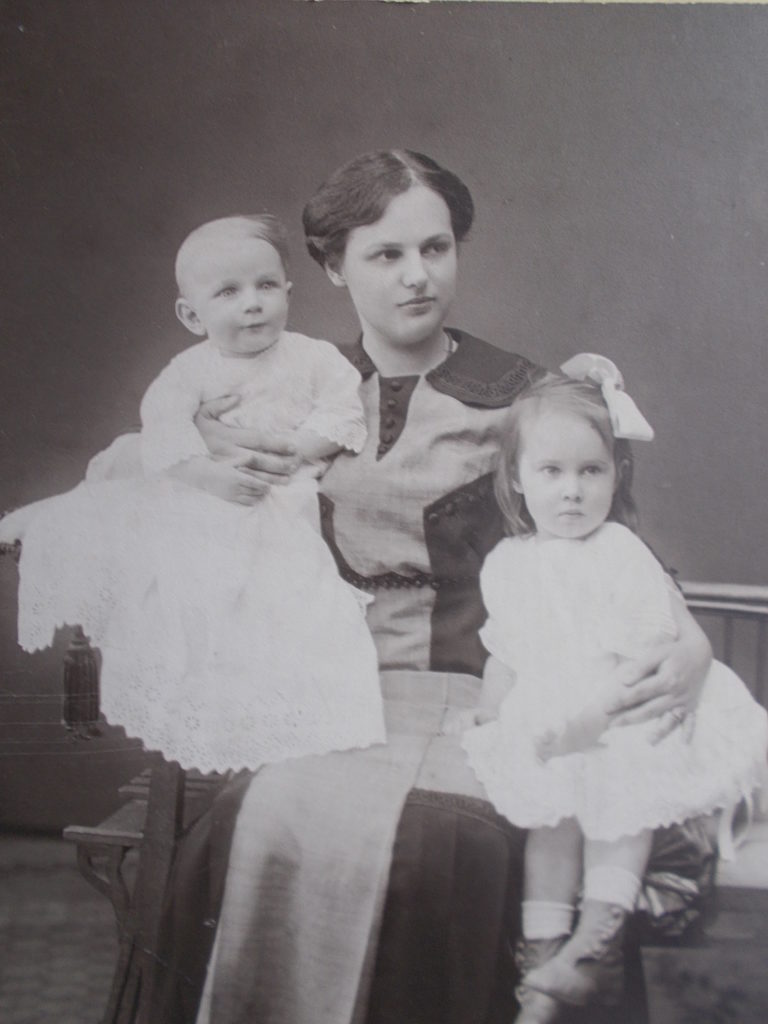 Z: Our father was 10 years old at that time, so he must have remembered these events well.
A: Certainly. The only thing that somehow stuck in my memory was what Father said that grandfather was connected in some way with these children, I don't know to what extent or in what form. But I remember that when my grandfather entered the room where the children were, he immediately called HUBS (in Polish: "GARBY") to stand up straight and not slouch while sitting.
Z: I remember that when we were little and lived in Ełk, we often visited our grandparents with our parents. At that time, we really liked looking at certain souvenirs together, including those from Japan, such as a small collection of Japanese coins with a hole in the middle.
Z: There were several dozen of these coins, so it wasn't a huge collection, but I remember that they were different and had a hole in the middle, which was quite unusual for us.
Yes, even till now we use such coins, so maybe if you have the opportunity to go to Japan, you will also be able to renew the collection.
Z: I was in Japan twice for short scientific conferences. The first time was in Tsukuba. Tsukuba is such a city, we could say, scientific, they have an accelerator there called a synchrotron. So for us, crystallographers, it was a very attractive opportunity. (A synchrotron is a particle accelerator that can produce very strong X-rays. Crystallographers use them for their diffraction experiments.)
Then, I was in Japan for the second time after a few years for a large crystallographic congress that was held in Osaka. I remember how good and how nice it was to visit Japan.
Have Mr. Andrzej and Mrs. Sylwia also been to Japan?
A: I haven't been to Japan.
S: My contacts with Japan are limited to the fact that my son took Japanese lessons for 4 years of high school. The high school, where I worked, employed Japanese volunteers (funded by the Japanese Government as Japanese language teachers). Because I worked in this school, I paid for lessons, so my son learned the language with Mr. Ryo Onozaki, Mrs. Miho Kuniyasu, and Mrs. Tamie Kikuchi. He also learned to make sushi, Japanese culture, and Japanese painting, and he remembers it very fondly to the present. After becoming a university student, he dreamed about internships in Japan, but nothing came of it, because, unfortunately, the world of science is ruled by its laws and not only our dreams.
Z: I remember one story from the old days with a Japanese friend whom I worked with in Berlin. He said that the Japanese do not have a specific ADH enzyme that digests alcohol and therefore cannot consume too much of it.
 It's true, I also have a very weak head.
Z: And that friend said that he could drink, because he is from the north of Japan, and the Japanese people from Hokkaido can afford to consume stronger alcohol.
That is very interesting!Changing the subject a bit, do you have any family heirlooms from the time before Poland?
A: Our grandparents with their children lived near the Irkutsk region during the revolution that reached Siberia in 1918. The grandfather was an engineer involved in the construction of the Trans-Siberian Railway. I have a photo album from that time.
Once things started getting a little nasty about the Bolsheviks there, they moved to Harbin in Manchuria. They had lived in Harbin for at least 2 years. A large Polish colony appeared there, because of the escape of the Polish descents from Siberia.
This is where the gold signet ring with two Chinese characters 堯景 comes from, which my father once showed at the Chinese consulate in Gdańsk. The characters have been translated as Yao Tsy. Yao is one of the legendary Five Emperors of China from Chinese mythology, he was considered the ideal Emperor by Confucians. The whole inscription should be understood as acting as Yao or imitating Yao. It is a ducat gold ring, which is very easy to damage.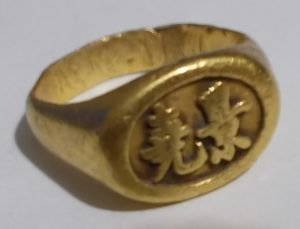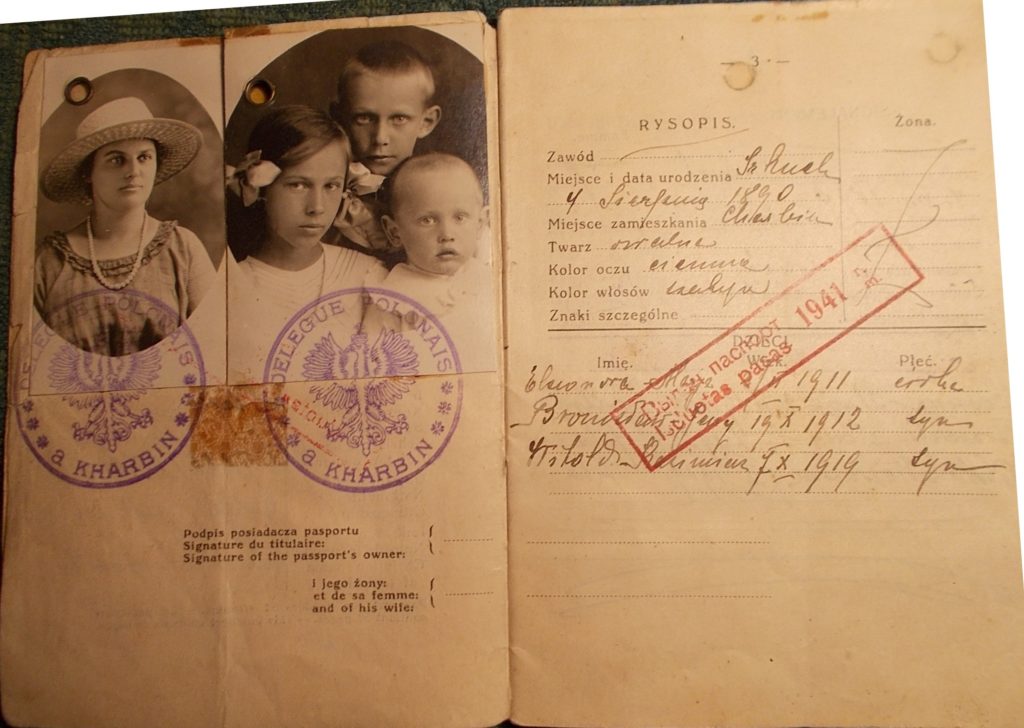 Z: It was also an attraction for us children and we gazed at it together with these Japanese coins.
A: Like wooden shoes for ladies and chopsticks, which were Japanese or Chinese – we are not sure.
In fact, apart from this ring, there is only this album from Irkutsk, a passport photo of my great-grandmother, and some photos of my great-grandparents of my grandmother and grandfather on my father's side. On my mother's side, my grandfather was a tsarist officer. My mother was born in Poltava, Ukraine, but they moved to Poland after the First World War.
S: As for souvenirs, I remember a book from my early years – a huge album with origami patterns and lots of colorful paper squares of various sizes attached so that you could assemble individual origami specimens. I remember it was very difficult for me, I couldn't make much, because origami is really an art.
I also remember an album of Chinese paintings, probably bound in fabric, with pages of very thin paper. Such beautiful, mostly floral patterns, as if painted with pastels. It was lovely.
A: It was two volumes of painting on tissue paper with triple or quadruple pages. Already purchased in Poland. They are with me.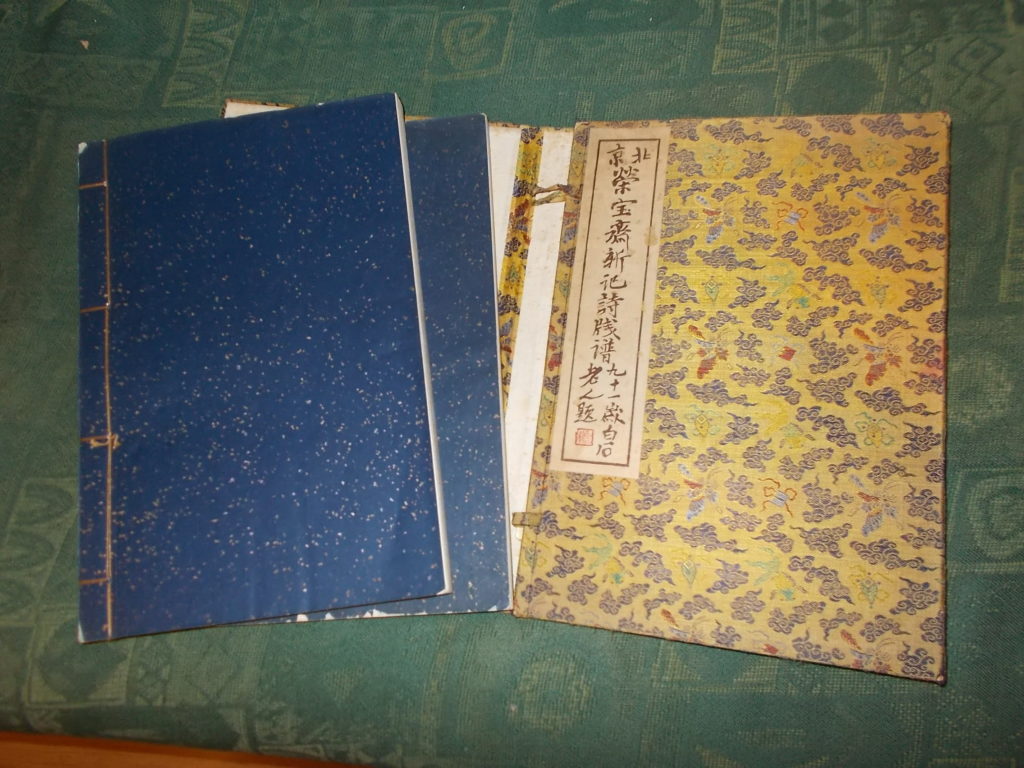 Do you have any origami remnants or photos anywhere?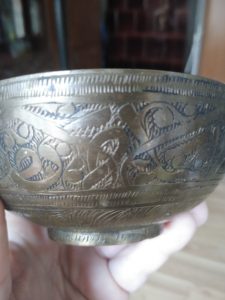 S: No, it got lost somewhere over time. Maybe dad passed it on to his grandson, I don't know. I still have a brass bowl as a souvenir. 
A: It seems to me that all the memorabilia that existed and of which there are still many of it rather from China or Siberia. It seems to me that our family flew through Japan like wildfire.
 Do you know why the family was in Siberia?
A: Our paternal grandparents come from the Volga Germans, settled in the old days by Peter the Great.
Z: As our Dauter surname suggests – it is a German one.
A: We have a piece of information about the ancestor Johann Theodor Dauter from the turn of the 18th and 19th centuries, then about his children, including Leon Dauter – our great-grandfather, father of grandfather Mieczysław, and grandfather of our father Bronisław.
Z: This Leon, who studied in Warsaw as a young boy in the Russian Main School under partition in 1863, together with his Polish colleagues took part in the January Uprising, and as a result of that he was sent to Siberia.
A: Not as a prisoner, but just exiled to Siberia.
Z: He lived there, married a Polish woman, and his son was called Mieczysław – by Polish name, so under the influence of his wife, the family probably became polonized. Mieczysław was no longer an exile or a prisoner, but a free man and he studied in Tomsk and then in Saint Petersburg. He graduated from the Higher Technical School (equivalent to the Technical University), returned to Irkutsk, got a job on the construction of the Trans-Siberian Railway, and they lived there until they moved to Harbin.
Also, my father Bronisław was born in a town called Verkhneudinsk, and now, since 1934, it has been called Ulan Ude – it is the capital of the Republic of Buryatia. It was a city on the other side of Lake Baikal from Irkutsk, where they were building this railway at that time. It explains why our Father was born there in 1912.
A: And when the railway reached Vladivostok, our uncle Witold was born there in 1919.
Z: The grandfather of our grandmother (the wife of our grandfather Mieczysław) was named Roman Rogiński – he is a historical figure, an insurgent. He is known in history because he was also a young man who took part in The January Uprising, but his military career did not go very well. Even in M.Kuncewiczowa's book (the Polish writer and novelist) entitled "Leśnik", there is such a short mention that "Roman Rogiński's unit captured Biała Podlaska". Besides, there is also a book by the well-known historian Stefan Kieniewicz; he wrote a small book about Roman Rogiński's unit.
In one skirmish with Russian troops, he took a small Russian detachment prisoner. It is not known why he suddenly took and killed a Russian officer, that is, shot the prisoner. It was a big offense and a serious crime. Later, when his unit was already defeated and he was taken to prison, the tsarist authorities sued him and sentenced him to death for it. But somehow it happened that General Nostitz, who took him as a prisoner, interceded for Rogiński and instead of the death penalty he was sent to hard labor in Siberia. That's how he ended up in Siberia.
He also started a family there, and his daughter Halina Joanna was our grandmother's mother. Such complicated twists of fate.
But how did it happen that you know so much about your ancestors, did you often talk about family or have a history book about it?
A: As I said, I am surprised that we talked so little and not enough. Especially about that time when they moved from Irkutsk to Harbin and then traveled to Japan and Poland by ships…
Maybe because it wasn't a good memory for your father.
 A: Maybe, I don't know. I don't really understand it.
To be honest, you know a lot about your family compared to other ordinary Polish families, with lots of details and dates.
Z: But there are only random fragments, anecdotes, and moments. However, I can tell you something about our grandfather and grandmother. In particular, my grandmother sang songs to me in Russian, because she was brought up in Siberia. I still remember her singing to me "Tili tili bom" which is a kind of Russian song.
A: After all, they were Russians by citizenship. They received Polish citizenship in 1923 (I have a copy of the document).
How did your grandparents return to Poland? I understand that dad and his siblings returned by ship via Japan, London, and Poland, but grandparents?
A: They traveled together as a family by the Atsuta Maru with their children.
-How old was Grandpa then?
A: The Grandpa was born in 1883, so he was 39 years old. And his children: Eleonora, Bronisław, and Witold were 11, 10, and 3 years old.
Z: We suppose that the grandparents (Mieczysław and Stefania) were formally accepted as the children's tutors. Because if there were over 900 children, there had to be many adults to ensure their safety.

S: If I may butt in. I have heard stories about the journey much later because Dad became my stepfather when my brothers were already adults and after college. I remember that Grandpa Mieczysław escorted the children. Surely there was such a word as a convoy. He was also a kind of tutor or functionary for the Siberian Children.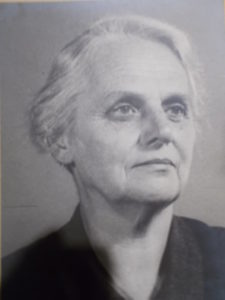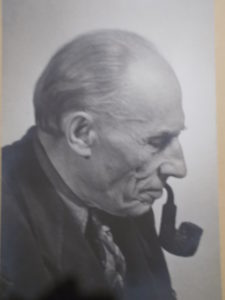 Indeed, in the book by prof. Wiesław Theiss, the memory of the first vehicle was mentioned, where your grandfather Mieczysław was the main guardian of the group that sailed by the Atsuta Maru ship on September, 6. But, he is not on the master list of maintainers from our archive in Fukudenkai.
Do you know the name of the town in Poland your grandparents came to? What was the fate of grandparents and their children?
A: I don`t know for sure which port they sailed from England to, probably to Gdańsk – Gdynia wasn't there. As far as I know, they first landed in Łódź and then settled in Białystok. I know that my father studied at a high school in Bialystok. Then, they moved with the family to Vilnius, where the grandfather ran the Boiler Supervision office. It was an office that is called Technical Inspection now. This Boiler Supervision was initially in Białystok, but then it appeared in Vilnius, so they moved there and also lived during the war.
Our mother lived in Warsaw. After the outbreak of war and during the occupation, she managed to get to Vilnius. Of course, it was not so simple, because there were 2 more Russian prisons on the way, and a rather accidental case of getting out of this prison in Slutsk. But after all, she got to Vilnius.
My grandparents got married in 1941 and I was born a year and a half later. Then, in 1944, Father was taken to the camp in Stalinogorsk.
Z: Not completely taken away, but he was caught in the boiler in the doctor's apartment.
A: He had scarlet fever, he went to the doctor, there was a łapanka there, so they took him and sent him to the camp.
Z: The Soviets made similar łapankas as the Germans in the General Government.
A: Also, by a bit of a happy accident, he managed to get out of there in 1946. He went to Poland, to Ełk. Earlier, in 1945, our family (meaning my grandparents and mother with me) was repatriated from Vilnius to Białystok. And then, in 1946, we all together moved to Ełk with our grandparents. At the end of 1946, my father returned from the camp.
In 1948 we already had our own apartment, and then a year later we moved to yet another. And in 1948…
Z: I was born.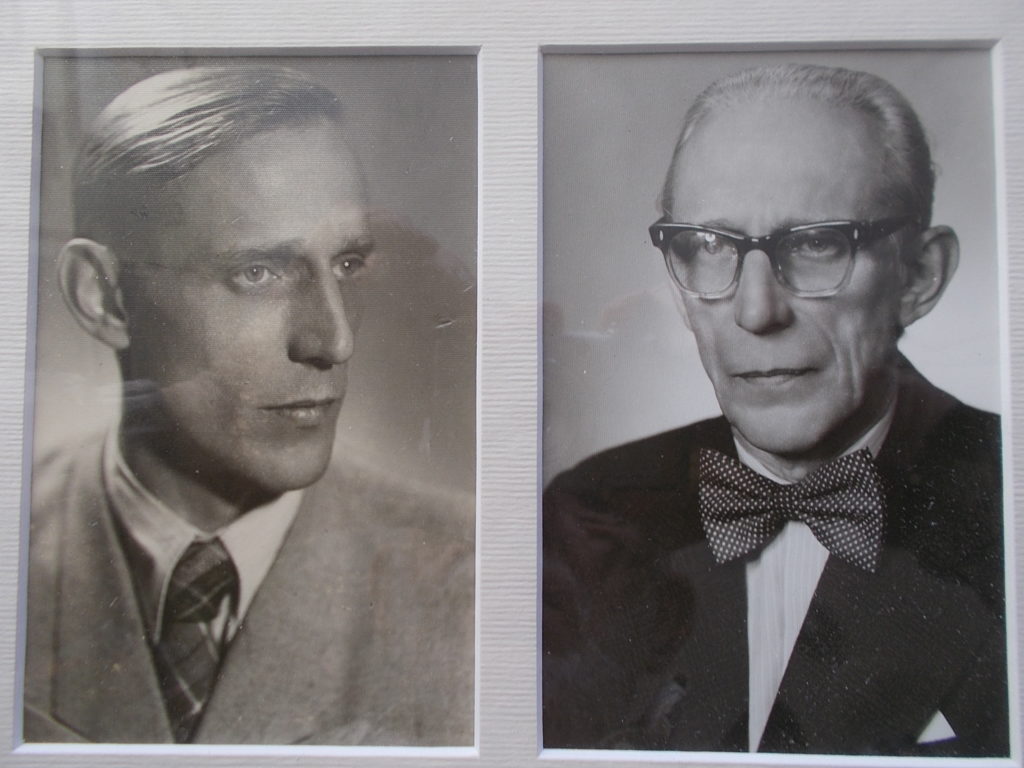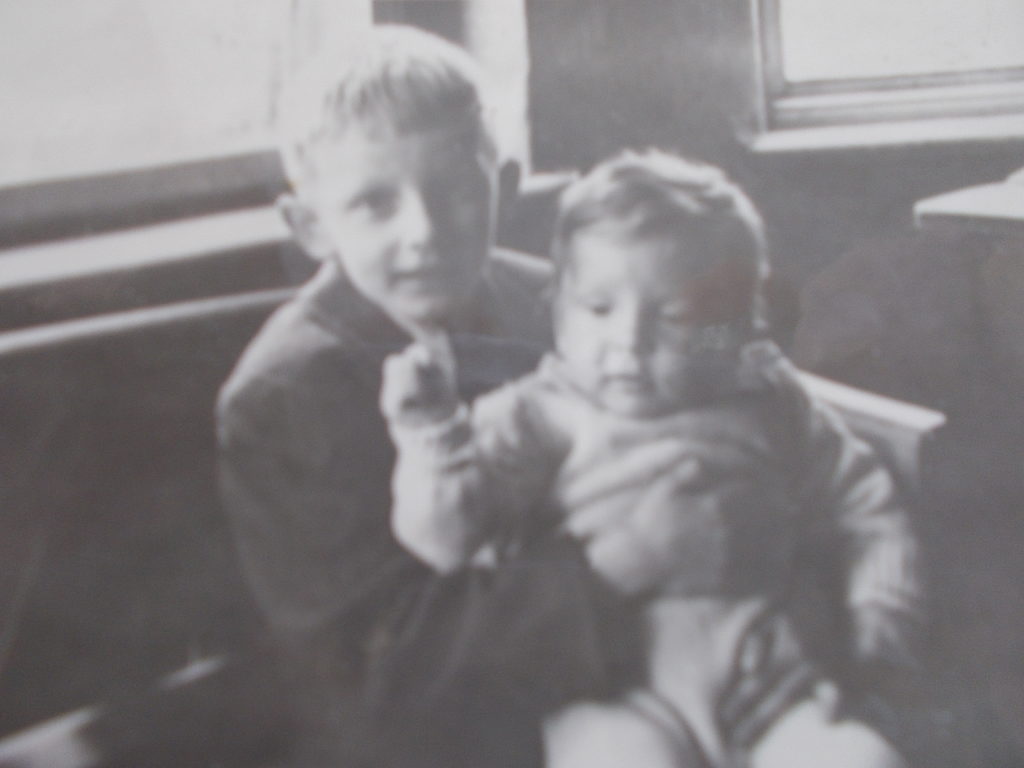 Magdalena: Do you remember Sylwia joined your family? Did your father's siblings also have children? Or maybe only the three of you keep the memory of the family past alive?
A: Sylwia became my father's stepdaughter because he divorced my mother and later married Sylwia's mother. That's how we became a family. Of the three Siberian Children in our family, only our father had two sons. His elder sister Eleonora was childless, and his younger brother Witold had no children either. At his late age, he married a widow who already had a daughter, so he also had a stepdaughter, but unfortunately, he is not alive now. From the closest family of these Siberian Children – Bronisław, only the two of us remained.
Do you have grandchildren?
Z: Andrzej has one son and two grandchildren, and I have 2 daughters and no grandchildren yet.
S: And I have, as I said, an adult son who graduated from college and I had a daughter, but unfortunately I lost her 3 years ago. I haven't even had grandchildren yet.
 Are they also interested in family history or the past of Siberian Children?
S: Maciej, my son, very much. He mentions Grandpa Bronek (Bronisław) and that is why, among other things, I am very happy and grateful that our meeting is being recorded today. Maciej really adored his grandfather and often came here as a teenager to help his aging grandparents. He respected him very much and had great esteem for him. Sometimes, when something bad happens in our social or political life, he says: "God, it's good that grandpa didn't live to see it because he was such a righteous and noble man. He would be really devastated to see how things go wrong sometimes." Maciej has great respect and a lot of warm feelings for his grandfather.
Z: My daughters are not very interested in it. Although Ewa, the older one, even has copies of photos from Siberia, otherwise there is not much interest. Anyway, I have to say that my daughters were both born in Poland, but we left very soon and they spent a few years in England, 10 years in Germany, and now 25 years in America. They also showed little interest in the past in Poland.
A: My son wasn't particularly interested, and neither were my grandchildren. Although for a while the younger grandson seemed to be interested, I think he got over it. If anything, this interest is rather very weak, or maybe none at the moment.
 I understand. I'm sure they're having their own affairs at the moment, and it's probably a bit difficult to organize the time to think more about family history.
Z: I will definitely show my daughter this recording of our conversation.  
A: I will also be very happy to pass it on to my grandchildren. Maybe they'll be interested in it. I must say that I, too, was looking for family ties through such a portal as Geni.com. It is something similar to the MyHeritage platform, with a slightly smaller reach, run by a Russian, but probably of German descent. There I also entered some data about the family, I also managed to download some things from the archives and collections, but not so much.
S: Just to add that Japan is still present in my son's life, because he, especially at the age of such youthful rebellion and a storm of emotions, was and still is a big fan of anime and manga. He even tried drawing by himself, and soon he's taking me out for sushi for my birthday.
Do you often talk about the history of Siberian Children? Is it only occasionally at meetings?
A: We must admit that rather rarely. Occasionally. It's more like an anecdote. But not as memoirs or historical discussions.
Z: No, but I was pleased to learn that there is such an organized group as Fukudenkai, which deals with the history of Siberian Children.
A: We are grateful to both ladies and Ambassador Rodowicz, who played an important role in this case, colloquially speaking, to reveal or find it.
Exactly. If it wasn't for Mrs. Rodowicz, even the Fukudenkai itself wouldn't know that such a story took place at all. It was Mrs. Rodowicz who played the most important role in this story to initiate the whole action.
Z: Although, as we know, years ago something was known about it in Poland. This is evidenced by the article about Siberian Children in Przekrój, which I read years ago when Marian Eile was still their editor.
Back in 2002, there was a meeting at the Embassy with the last three Siberian Children living at that time, so even 20 years ago this memory was somehow still alive. Do you know anyone else who is related to the Siberian Children or is somehow related to this story?
A: I haven't heard of anyone. If so, I've heard about some contacts and connections from the interwar period.
Z: Here the question arose of how our grandfather's cousins ended up in Poland. They also had children of a similar age. Could that have been related in some way?
I do not know. I asked the family but they don't have that information. They probably got there in such a way that after the revolution people who wanted to come to Poland, feeling themselves Polish, had such an official opportunity.
Z: Yes, but it wasn't that easy. Anyway, this was probably the main reason why these children were evacuated through Japan and not directly from Siberia to Poland.
A: As far as I know, there were such transports by rail through Russia.
 Here I would also like to ask if you have come across the names of people closely related to the history of Siberian Children. I mean Mr. Teruo Matsumoto, a Japanese historian who settled in Warsaw and mainly dealt with the subject of children from Siberia, and Mr. Wiesław Theiss, who directly conducted interviews and maintained close contacts with Siberian Children. I wonder how it happened that you have not been able to contact anyone about this before.
A: I found this topic by accident in the daily portion of Onet's news, which I browsed while sipping my coffee after breakfast. I found information about these Children, about the fact that there were transport lists. I came across these letters and only then I contacted you. By telling my brother and sister, of course. Previously, we had no information on this subject, except that my brother, as he says, read this article years ago in Przekrój.
I understand, so it was just by chance.
But we are very happy that we managed to find you.
A: I'm very happy too.
Z: Very nice and very pleasant meeting. Thank you.
Also thank you very much.
We would like to invite you to a ceremony commemorating the return of Siberian Children to Poland, which will take place on September 22, 2023.
A: I would love to participate in it. I don't know if the brother would be willing to come so far.
Z: I probably wouldn't be able to do it, but I'd be happy to delegate my brother.
Thank you very much, the ceremony is organized for about 800 Polish and Japanese guests. You will have the opportunity to meet other families of Siberian Children and people connected with this story. A conference and banquet party is planned and there will be possible to try sushi or Japanese tea.
A: I remember my grandfather's story about tea. How the finest parts of the plant are harvested for the best teas…
Do you have any ideas or suggestions that could contribute to more effectively finding the descendants of Siberian Children and disseminating their stories?
A: I think that what you are doing with this information in the media is already a huge thing, very worthy of great praise and gratitude. It should interest people though.
Z: And that's what got you in touch!
A: I think there is a chance that more people will apply in this way.
Z: News in popular media such as Onet or similar places have a chance to reach the widest target audience.
S: I think it's ready material for a movie or series. Because it's just an adventure! It's just such a story that it's either perfect for a feature film or a mini-series. It's just… it's hard to believe that something like this happened back then.
There is one movie called Syberyjskie Sny, and there are recorded interviews with Siberian Children. An amazing documentary! I highly recommend you watch it.
Finally, we would like to thank all three of you for taking the time and telling so many detailed stories. Very nice atmosphere!
Andrzej, Zbigniew, Sylwia: We would also like to thank you very much and express our great gratitude to both of you and the entire Fukudenkai institution that you represent, for this action, as well as for today's meeting. Thank you!