The Patron Day and the Japanese Day of Culture in Leszno 2022
November 4 (Friday) at the Special Purpose School and Education Center named after col. Jerzy Strzałkowski in Leszno near Warsaw,
the Patron Day and the Japanese Day of Culture took place.
The event was attended by descendants of Siberian Children, historians, officials and other people related to the school and the history of Siberian Children.
After the speeches and the official part of the event, the stage featured dancing and singing performances by children from the school and the parish.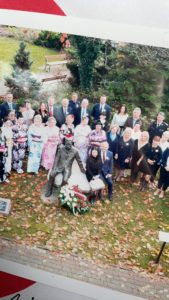 Last year, there was also an opportunity to participate in a similar event.
This year, bonsai trees, Japanese props, and books were on display, as well as presentations about Japanese culture.
The atmosphere was great, also because the teachers working in the Center were dressed in Japanese Yukatas.
After the main event there was a time for all quests to talk over the meal.
*Jerzy Strzałkowski is one of the Siberian Children who 100 years ago,
thanks to Japan's help, returned to Poland and devoted himself to his homeland.