Passing on a great-grandmother's love of family to the next generation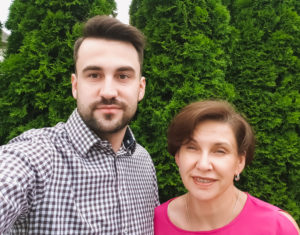 Urszula Malewska
Wnuczka Wincentego Marszala- jednego z dzieci syberyjskich. Niestety nie poznała swojego dziadka osobiście, ale dzięki jego siostrom, zdołała choć trochę poznać niezwykłą rodzinną historię.
Jest wdzięczna swojej prababce, która oddała swoje dzieci, aby mogły żyć w Polsce.
Od lat opowiada o niesamowitych losach swojej rodziny, przez co zaszczepiła w swoim synu- Bartoszu, chęć do zdobywania o nich informacji.
Dzięki niemu zdołała opowiedzieć swoją historię i zamierzchłe dzieje rodziny szerszemu gronu odbiorców.
"Mam ciągły "głód" wiedzy dotyczący tej historii. Może za Państwa pośrednictwem będzie możliwe poszerzenie wiedzy i zdobycie nowych informacji? Może żyją gdzieś moi dalsi krewni? Chciałabym ich poznać i uściskać. Nie wiem czy będzie mogła nastąpić taka chwila, ale byłabym szczęśliwa."
Would you please tell us about yourself?

My name is Urszula. I am the granddaughter of Wincenty Marszał – one of the Siberian Children. Wincenty had three children: Wanda, Ryszard and Wiesława. Wanda is the oldest (about 90 years old) and had three sons (two of them are already dead). Ryszard, my father, had three daughters, and Wiesława has three sons. These are the descendants of Wincenty.
Please tell us more about your family. Who in your family is related to the Siberian Children?
My father, Wincenty Marszał, was one of the Siberian Children as I mentioned. So far, we thought he had only three siblings: Anna, Helena and Benjamin. I met Anna and Helena when I was a child, while Benjamin appeared only in family stories. However, when I found a website about the Siberian Children and analyzed the list of children, I found the name Ludwik Marszał. I don't know why my family didn't know about this list, but it seems like four of them (Wincenty, Helena, Anna and Ludwik) were on the same ship which sailed through Japan and America from 1920 to 1921. Meanwhile, Benjamin returned to Wejherowo via Japan, the Indian Ocean, and London in 1922 and was reunited with Helena. Maybe Ludwik was not a relative, just had the same family name by chance. Another surprise was the fact that the list included Innocent Marszał – I guess it refers to my grandfather Wincenty, due to the similar pronunciation. 
Have you had a chance to hear the story about your grandfather's stay in Japan directly from him?
Unfortunately, I couldn't meet him. He died when my father, Ryszard, was about 17 years old. As I mentioned before, I had the opportunity to meet his sisters – Helena and Anna. Anna, my grandaunt, used to visit us and tell us her stories of the old days when I was a child. I couldn't meet her often because she lived in Świdnica, and we lived in Bielsk Podlaski. These cities are located almost 600 km apart, so it was a long distance for her to travel. As time went by, she got older and I lost contact with her. But I remember she often compared her troubled childhood with mine and talked passionately about it. She didn't look happy when she was talking about it, so it was probably a painful memory and a past that she didn't want to remember. Or maybe I, as a child, was not the right partner for those conversations.
Could you tell us your grandfather's story? Why was he in Siberia? How did it happen that he joined the group of children who went to Japan?

I don't know exactly why my grandfather's family ended up in Siberia. There is a legend in our family that his father was a university student and took part in the January Uprising in 1863 or the Russian Revolution in 1905 – 1907, and for that he was exiled to Siberia. However, the credibility of this story is uncertain. From family stories, it is known that my great-grandfather was already dead when his children were handed over to the Polish Children's Rescue Committee, and probably my great-grandmother was not able to protect her children. I keep a photo from 1918 in which there are two people: a woman and a man. They are probably the parents of my grandfather. On the other side of the photo, there is a dedication in Russian: "As a gift to my dear Iwan and Ksenia Sidorowy from Kazimier and Nina Marszał". Who were the Sidoras? I don't know. There are some other notes, but unfortunately they are scratched and unreadable. This photo was given to my father by my grandaunt Anna, and he handed it over to me. I think my great-grandmother entrusted it to her children returning to Poland.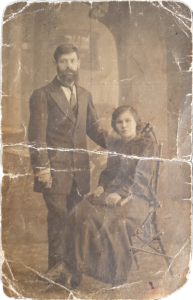 What was your grandfather's life like after he returned to Poland?

Unfortunately, I don't know about that either. According to Anna, she was staying in an orphanage in Wejherowo. Helena and Benjamin were probably there as well. I found their signatures on the portal of the website polska1926.pl. But where was Wincenty then? Why didn't he sign up? That's a mystery. Maybe it doesn't mean anything? Anna was there and she didn't sign either. Or maybe on the contrary – it means something – he didn't sign, because he wasn't there, and Anna was just too small to sign?
From family stories, I know that my grandfather learned a lot at that time and became a baker. After the war, he opened his own bakery and was quite a wealthy man. On the other hand, he had trouble getting married to my grandmother because he didn't have the appropriate documents, i.e. birth certificates issued in Poland.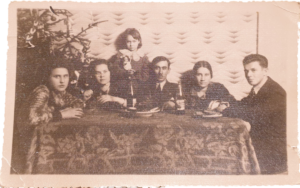 My grandparents were able to get married after the documents arrived from Russia. I have a photo of their wedding party (around 1935 – 36), with their daughter Wanda, about 5 years old at that time, holding a doll in her hands. This doll was sent with my grandfather's documents from Russia. Who on earth sent the doll to Poland? The government office? Or someone who was in Siberia at that time might have sent it to tell them he was safe. I also know from family stories that my grandfather had problems during the war due to his birth in Russia. The Soviet army tried to recruit him as a Soviet citizen. My grandfather probably had to flee and hide because he didn't want to be drafted into the Soviet army.
Are there any special memories from Japan that your grandfather remembered for a long time?
I never met him as I mentioned before, so I didn't hear such a story. I regret that I know little about the history of my family. When I was a child, I was not very interested in this kind of history and I didn't understand it correctly. I would also like to mention that it was dangerous and difficult for my grandfather to tell the whole story under the political control in Poland at that time. As I grew older, I became very interested in this story. However, there was no longer a person I could talk to about it.

How often do your relatives talk about the stories of your grandfather or the Siberian Children?

Sometimes we bring up this story, especially when new information comes out. The reason why I am so eager to gather information may be because I want to tell as much as possible to my son, Bartosz. It was thanks to him that I found out about your activities. In other words, there is already the next generation that knows and will spread this amazing story.
Does anyone around you know about the history of the Siberian Children other than your family?

Unfortunately, no one around me has similar events and experiences in their surroundings. Many years ago, when I told someone about my ancestors, I was perceived as a fantasizing teenager, inventing out-of-the-ordinary stories. Yes, this history is so amazing that it is hard to believe. But I will continue to talk about this history as long as I remember about it, because I am very grateful to my great-grandmother who handed her children over to the Rescue Committee so that they could live in Poland. I always think of her as a heroic woman who decided to let her descendants live here in Poland, despite her concerns about being alone and the uncertain fate of her children.
Do you think the history of the Siberian Children should be better known among Japanese and Poles?

Of course I think so, but it will be a really tough project. The history of Poland and Poles is complicated and difficult, but also interesting and beautiful. This history will surely connect Poland and Japan. Thanks to the contributions of the Japanese, many descendants of the Siberian Children can speak Polish today and live in their homeland. Thank you very much for that.
What activities do you think could contribute to hand the story down to the next generation?

Few years ago, the Japanese film "Autumn in Warsaw" was shown on Polish television. I remember receiving a wide response from my friends and family, so not all of this history has been forgotten. I think this is an interesting story for a new film. Not much is explained about it even in Polish schools during history classes – I mean not only the history of the Siberian Children, but in general the history of Siberians, Poles who found themselves in Siberia over many years. I think this situation should be changed.
Do you have any ideas or opinions about the ceremony organized by Fukudenkai in 2022? 
Certainly it would be very interesting to hear the extraordinary story again. It would definitely be interesting to get to know the perspective not only from Poland, but also from Japan. In addition, I would like to hear the story from the point of view of researchers who have been trying for years to look for information about our ancestors : why they happened to be in Siberia, in which part of Poland they lived earlier, who their ancestors were, and so on. Meetings with genealogists would also be interesting, who might be able to suggest the most effective way to find our roots. It is also important to interact with other descendants and listen to their family experiences and history. Perhaps the history of specific families will allow us to get to know and understand the entire history of the Siberian Children even better.
Would you like to participate in events other than the ceremony? What do you think about holding smaller meetings for the families of the Siberian Children?

Yes, I will be very happy if I can meet other descendants of the Siberian Children. I think it will be a good opportunity to discover new facts of this extraordinary story. Perhaps such events will also contribute to the formation of a community of descendants, which will propagate this story among Poles and Japanese.